Designed in collaboration with St. Louis-based visual artist Lauren Roche and her partner Curtis Campanelli, the creative duo behind 69tearz, the finished design rings true to Lauren's visual style and is full of playfulness. 
Prior to her 69 Tearz project, Roche was predominantly a painter. During the summer of 2021, Roche was feeling frustrated with the lack of progress in her painting and putting pressure on herself to be productive during one of her art residencies. During this time, her boyfriend and creative collaborator, Curtis, convinced her to draw on a pair of feedsack pants he had sewn, and that is how 69 Tearz was born. 
"69 Tearz started as selling vintage on Etsy. I was spending a lot of time at the bins finding vintage clothing. Sometimes I would find really beautiful old textiles or feedsacks and I begged [Curtis] to make me some simple clothes out of them. Of course, when he finally did, I posted them online and people loved them. So he wanted to keep doing it because it was a skill that he could work on and [that] we could potentially work on together."
We had the pleasure of chatting with Lauren about her design process, how she started collecting vintage, and her favorite pieces in the collection.
What does a typical day in your workspace/studio look like? 
"[Curtis and I] work at home. [We] wake up at 6 AM to tend to our chickens, drink coffee, correspond with social media and email contacts, [and] then walk or hike with the dogs. [We] are usually working by around 9. 
Curtis has a separate studio space with a door that leads to my studio space and we like to listen to different things so we both listen to headphones while working. I primarily listen to podcasts and he listens to music. I'm usually drawing while he is sewing in the other room. 
We work at a very similar pace, which is super convenient. I take a lunch break at 12 for a half hour then work until 5 or 6 [and] hike again with my dogs (we have 4 dogs). We eat dinner at 6 or 7 then do random stuff around the house and then [it's] bedtime.
What is the fabrication process like for 69 Tearz? From start to finish, how long does it take to complete a drawing on one of your feedsack pants or coats?
"The process has changed a bit over the course of the last year. I used to keep pants next to my bed and wake up and start drawing and basically not stop until I finished 2 pairs but I have learned a lot about how to set up some structure around the process, it's a bit more sustainable now. To finish a pair of pants or a coat takes me around 5-6 hours. 
I have a big desk I work on, and my pens are all organized in a tray. I draft out the black ink parts of the drawings first (everything is done freehand), and then move on to the color process. Once the color is finished, I lint roll the whole piece and iron heat-set the ink onto the fabric, and hang it up to dry for the next few days. 
The piece then gets photographed outside at 9 AM in the shade and measured. We usually produce about 30-40 pieces consisting of pants, coats, shorts, tee shirts, and fanny packs of varied sizes for our website's "ready-made" drops, which we aim to have around once a month."
Who or what do you look to for inspiration? What's inspired you lately? 
"I go to antique stores and flea markets a lot and am always looking through old children's books, illustrated instruction manuals, [and] old comics or magazines that have advertisements in them. 
I have a big scrapbook and a folder of snapshots on my phone of imagery I've collected to draw inspiration from. I like to travel and have been a practicing self-taught visual artist/painter for many years. 
I am always looking for inspiration in my surroundings and usually find inspiration for my paintings in things that other artists have made, like woven textiles, hand-painted ceramics, or hand-painted signs."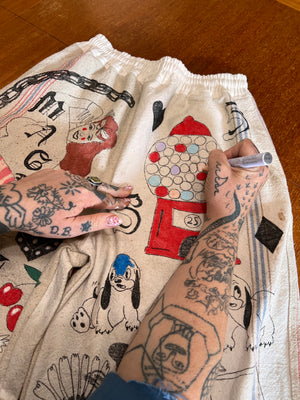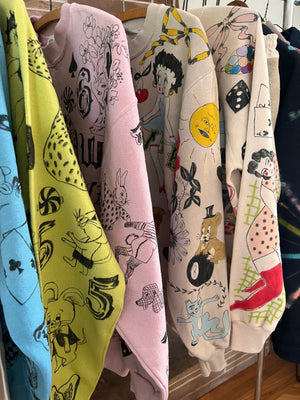 How did you start collecting vintage? What do you look for in pieces? 
"I've actually been into vintage clothing since I was a teenager. It's been a pastime of mine for as long as I can remember. My favorite method for sourcing vintage is sifting through the bins. I have a series of checklists in my mind that I'm rapidly checking off when I'm sifting through clothes. 
I love the fast-paced challenge of the calculation I encounter while sorting through old fabrics. I usually pass on synthetics unless they are unique or extra special. Anything from the 1930s or 40s is an automatic keep. I have a good sense for feeling things that are pre-90s. 
Usually, I grab whatever I personally think looks cool or holds something special, I think it comes easier from the exposure to so much clothing through the years. I actually don't have a ton of clothes that I keep only for myself, I always sell or pass them on, it's a constant rotating door in my closet. 
I love to keep my wardrobe ever-changing. I hate stagnation."
How did you go about designing the doodle print? What's the story behind the motif?
"I think these are basically a mashup of the characters I was using a lot [in my work] when Caron reached out to me.
A lot of them are inspired by old hand-drawn Canadian QSL Ham Radio cards from the 1980s, which are these postcard-sized business cards truckers would make for themselves to trade with other truckers so they could find them on the amateur radio stations. 
I also was reading a lot of 1950s 'Katy Keene' vintage comics by Bill Woggon [at the time], I love Katy Keene's style so much."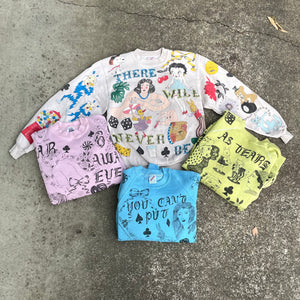 What are your favorite Doodle pieces from the collection?
"I love all the pieces so much.
I'm a huge fan of the Fincher jumpsuit and Krasner jacket as those speak to my obsession with the androgynous style of workwear and durability of herringbone twill. 
The doodle all-over-print is such a beautiful combo of maximalist, feminine, and streetwear without being overt. The pieces are bold but soft. 
Curtis loves the black doodle print and the Alice Shirt."
How would you style some of these pieces?
"I'm crazy about how they are styled in these photos–the turtlenecks and white socks, chunky shoes and stripes. 
The mix of masculine and feminine is something I've always loved about Caron Callahan–and the way her clothes look so comfortable, unfussy, and yet striking is something I really strive for as a clothing maker."
To see more of Lauren's work , you can follow along @shop_69_tearz.