We spent the morning with Amanda Jesse and Whitney Parris-Lamb, the founders of Brooklyn-based interior design firm,

Jesse Parris-Lamb

. In their studio, we talked about what inspires their work and style along with favorite summer spots in the city. Completely inspired by them both, we hope you enjoy their style as much as we do.
 Where is your favorite place to find inspiration? Physical space or digital space?
Amanda: I used to be a dancer so I love seeing ballets at Lincoln Center.  I usually come away with new ideas - from the set design to the lines and shapes made by the dancers' movements.
Whitney: Always physical space when possible.  That's been harder than it used to be with a young kid in tow, but my ideal is always to travel and see things in person.  I'm a construction nerd and love to understand how things are built.  There's nothing more interesting to me than how materials come together in a beautiful but also functional way. 
 How is your personal style reflected in your work when creating a space?
Amanda: I'm drawn to clean lines and well-proportioned pieces in both my personal style and in my work. That's why our firm often specifies and takes inspiration from vintage furniture. It feels like makers back then considered the human form and designed sculptural pieces that are comfortable without being over-scaled or overstuffed.
Whitney: Like clothing, I think a great space should be beautiful but also serve you well.  I want to look sharp and put together but also feel comfortable and know that what I'm wearing isn't too precious.  I hate dry cleaning so I tend to wear natural fibers that can easily be hand washed and hung dry at home.  I'd say our work also aspires to this combination of beauty and practicality.  Many of our clients have young kids, pets, and busy lives. We create spaces that feel inviting, comfortable and durable while also clearing a high aesthetic bar.  
I love to layer clothing and jewelry from different eras and try to avoid obvious trends.  In the same way, we try to make our spaces feel timeless and curated - we always use a combination of vintage and contemporary pieces and aim for unexpected pairings that really highlight the special aspects of each component.  Maybe on a really good day I achieve this with my clothing? Or maybe not, haha!  It's certainly something I admire in others.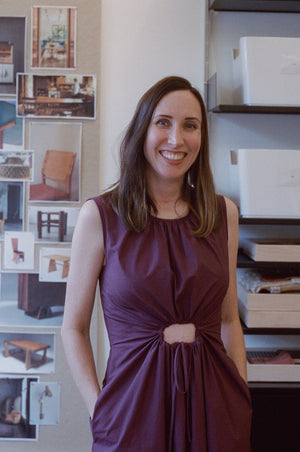 What's your favorite flower to have in a space? 
Amanda: My husband and our six-year old daughter love to put together floral arrangements from the local bodega. The strategy is to choose "whatever looks most alive," and add a touch of magenta (my daughter's favorite color). The results vary, but the flowers always put a smile on my face when I think of the two of them working together to create something unique and personal.
Whitney: I spent a summer living in an earthship (with a greenhouse-like glass front facade that was ideal for indoor plants) in Taos, New Mexico and the house was full of giant red geraniums.  They're classic and bring life and color to a space year round.   I've had a more modest version in my apartment ever since. 

Favorite spot in Brooklyn to go in the summer?
Amanda: The Pratt campus is essentially our backyard. It has beautifully maintained gardens and a sculpture park with pieces from well-known and emerging artists, including Pratt Alumni. I'm a Pratt alum myself (it's where I met Whitney) and loved my time there as a grad student. It's fun to go back now and enjoy the campus in a different context.
Whitney: I love sitting outside at Gold Star Beer Counter on Underhill Avenue!  They have an array of great beers on draft and a very low key, kid-friendly vibe.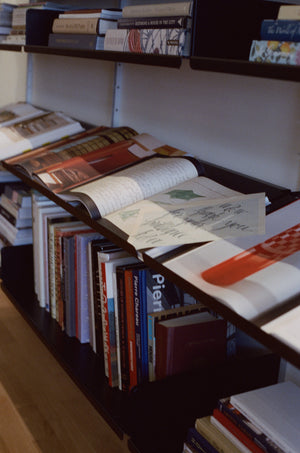 What was your childhood bedroom like?
Amanda: Growing up in rural Michigan, my access to interior design was limited. But when I was 9, my mom let me "design" my room. I chose mauve floral wallpaper with a coordinating mauve floral border paper and of course, mauve carpeting. I was clearly ahead of my time and somehow predicted both the grandma-chic and monochromatic trends we're seeing in design today!
Whitney: A total mess!  Piles of clothes, toys, art supplies, etc.  I was always so busy creating things (including messes) and never seemed to clean up one project before I was on to the next.  I'd say I'm a very tidy adult but my Mom loves to remind me how I drove her crazy with my messes as a kid.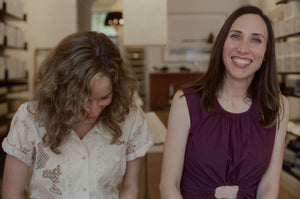 Photos by Jen Steele.