A Look Into Our SS22 Collection
SPRING EMBROIDERY
It has reached the point in the year where we can say with full confidence that spring has sprung. Temperatures are warming, the sun shines for longer, and flowers are blooming yet again. Soon we'll be putting away our heavier layers in favor of lighter ones. And, of course, with a new season comes a new collection. This spring we played with bright colors, eye-catching prints, and explored something new: embroidery. 
Classic embroidery patterns are typically floral or botanical in nature. This made spring the perfect time to further develop ideas we'd been tentatively exploring in seasons past. Alongside a great team of artisans at Shahzadi Exports, an embroidery guild based in India, we developed 6 motifs. The resulting collection feels playful and fresh, just like the season for which it was designed. 
Read on for an inside look at how we developed this season's embroidery: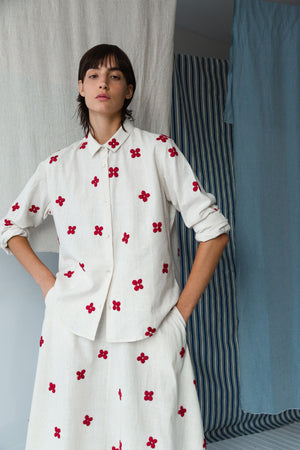 Scatter Floral: As seen on the Alice Shirt in Scatter Floral & Clay Gingham, the Penny Shirt, and the Malva Skirt
Inspired by a hand-applique technique called a Suffolk puff, we loved the way the stitching for this technique created volume and dimension. We started with quick mockups of flowers and gradually tweaked the scale until we reached something that felt plentiful and interesting.
The end result is something we love to pair with our Raina Jean in Washed Denim.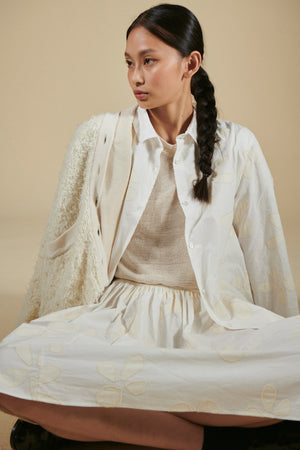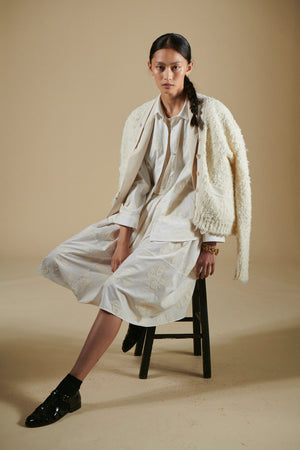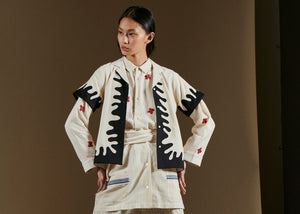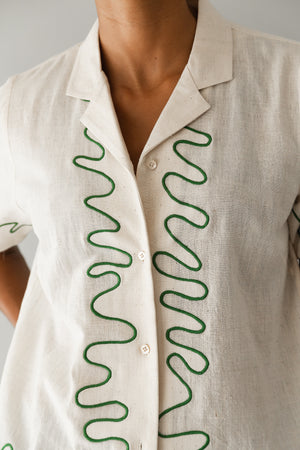 Khadi Squiggle: As seen on the Johan in Green & Black, the Ruby Scarf, and the Alice Shirt in Kelly Gingham
Recalling Matisse's paper cut-outs, we were initially unsure of whether we liked it best as a print or solely as an applique. We had lots of fun finding a happy medium that allowed us to experiment with contrast and scale. Each squiggle is applied to cut fabric using a hand-operated machine. 
We find the tops pair well with our Wharf Shorts or over the Kamia Dress, and the Ruby works tied as a scarf or worn around the waist.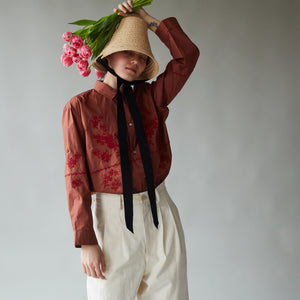 Alice Shirt in Teacup Floral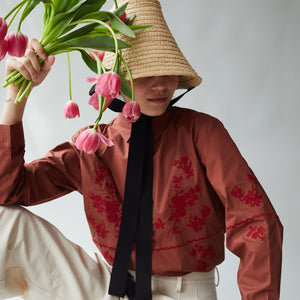 Teacup Floral: As seen on the Alice Shirt in Blue & Clay
Named after its resemblance to artwork found on teacups, this design is machine embroidered without a machine-made look. Throughout the development process, it was important that we create something that recalled the tradition of home sewing. We arrived at a design that feels true to our vision while still retaining a handmade sensibility. 
Both the Blue or Clay look great with our Stewart Pant and any of our Ellie Mary Janes.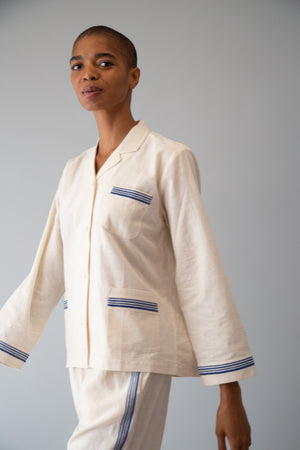 Jonis Top in Khadi Stirpe
Khadi Stripe: As seen on the Jonis Top and Noriko Pant
Traditionally used in Indian textiles, Khadi is a soft unbleached cotton fabric. We liked its natural look and feel and wanted to give it an opportunity to shine. With an embellishment that was more paired-down, our stripes accomplish exactly this. 
Style the Jonis and Noriko as a set or pair the Jonis with our Hanslo or Ellis Pant for a polished daytime look. 
We hope you enjoy all of the styles, prints, and embroidery in this season's collection as much as we loved designing them. If you'd like to know more about our embroidery or have questions about our styles, please feel free to contact us via our live chat on the site or by emailing store@caroncallahan.com.